Trends repeat themselves. After every decade or two they make a comeback and become a rage and talking point. Ikat Trend is one such hot favourite doing the global rounds. The word 'Ikat' comes from 'Mengikat'. It means 'to tie' the loose threads, in order to specify the areas where the thread would be colored.
What Is Ikat?
Am sure those of you who have a taste for fashion would like to know more of what is ikat and ikat print.
Well, Ikat is a dyeing technique which is used to pattern textiles. It has been a huge craze in fashion and home interiors. From apparels, bed sheets, to even fashion accessories, Ikat trend can be seen on everything.
The centuries-old Ikat (pronounced "ee-cahht") is about patterns which are made of colored 'lines'. These 'lines' are actually threads which make woven textiles and go in two directions – vertical and horizontal. The vertical threads wound onto the loom are called the 'warp' threads.
Now in order to create an ikat pattern, the horizontal and vertical threads are first dyed and then woven in order to evolve a distinctive look.
Ikat fabric can be dyed in multiple ways. 'Resist' method is the most popular one which looks similar to tie-dye. A resist (which the dye can't penetrate) is applied to the threads and after they are dyed, a pattern is created.
How To Make 'Ikat' A Part Of Your Daily Wardrobe
There is no ruling out the impact of ikat fashion in casual to office dos. Let's check out how ikat print and ikat pattern is coming to be the new age fabric material.
1. Dressing
When it comes to beating the heat, there is nothing cooler than a cool, summery day dress. With the intriguing print on it, you can give serious competition to the sun.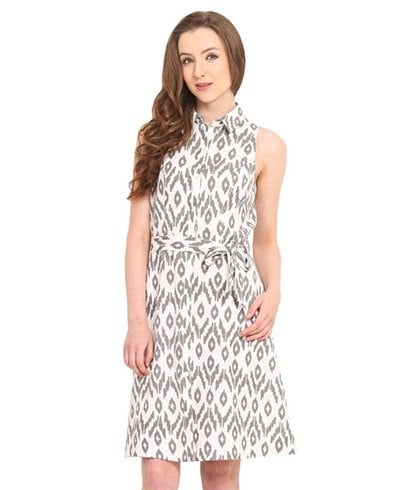 You can have relaxed day out or a fun night by wearing cool ikat print romper and strappy heels.
"Ikat tape," which is a plastic, dye-proof tape is commercially available. Like the waxed thread, ikat tape is wrapped around the threads being dyed in order to protect and seal select areas on the fabric from the color. That's how you get the tie-dye technique.